---
How leaving your comfort zone takes you where you need to go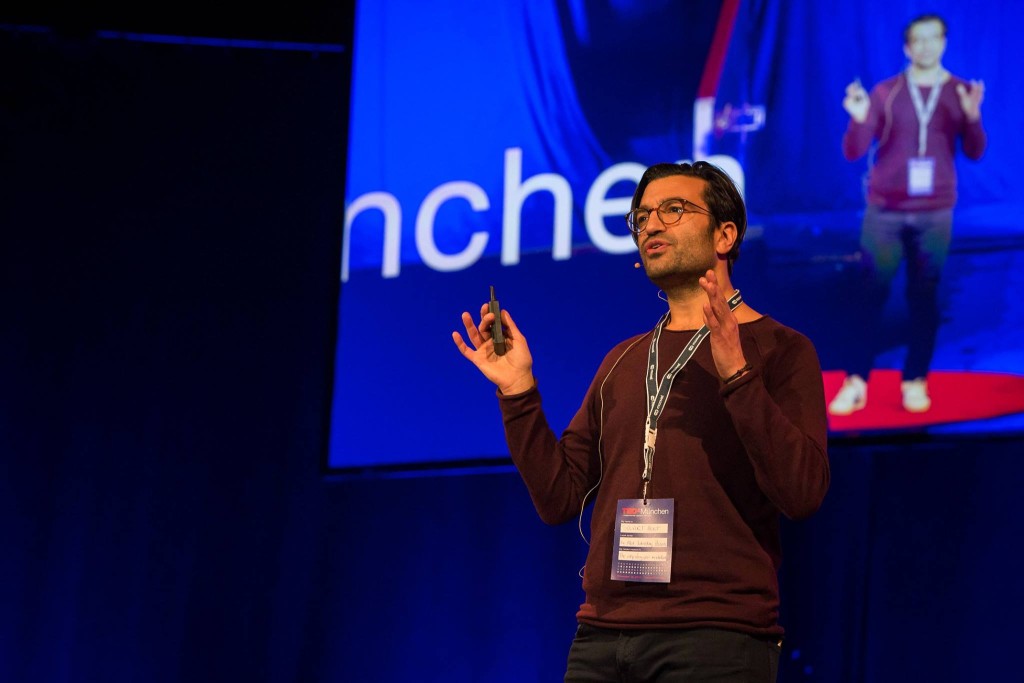 Imagine it was up to you to choose one person to speak on the illustrious TED stage. Who would you choose to speak? 
Try and think of someone you know personally, not someone abstract like the pope. Rather, someone you share a story with in your life. The teacher who inspired your passion, the colleague who realised an ambition, your exercise buddy, your lover, your confidant.
If this is still the pope then I'm looking forward to your TED talk!
---
Who is your most interesting person?
I was faced with this conundrum when I recently spoke at TEDx Munich.
The organisers invited me to talk about my work with the Most Interesting Person project. This is a project where an interviewee is asked to nominate the most interesting person they know, who becomes the subject of the next interview. And who, in turn, nominates the next person and so on. This forms a trail of interconnected interviews.
Although based on a simple premise, this trail of interconnected interviews has taken me around the world multiple times. It has inspired more than 200 interviews conducted with people I would never otherwise encounter. It's weaved narratives such as the Holocaust survivor who led me to one of his students, a leading Doctor in the field of Gynaecological ethics, who nominated his cleaner, a Romanian refugee who escaped Nicolae Ceausescu's brutal dictatorship, and managed to put her children through university.
Such characters, with their disparate life experiences may not readily mingle. But offer a thread to stitch someone's inspiration to another's passion, or someone's opportunity to another's potential, and the marvellous fabric reveals itself. And that is what this project aims to do; provide a little catwalk for us to show off our threads.
Frequently something good comes from speaking to a person you don't know.It opens the door to the very spice of life, variety. And yet growing up, more often than not I chose not to approach strangers, because of some unfounded fear, of being seen as threatening, or in some way bothersome, annoying, uncool. Being rejected. I was acutely aware of the untapped potential of a silent crowded tube train. Yet I could count on my fingers the number of conversations I'd struck up inside one.
---
Searching for my stranger
To demonstrate my work, TEDx invited me to select the speaker who would follow me on stage. I would choose this person by doing a TEDx trail. Specifically I would choose a speaker who had spoken at the event the previous year and ask this person to nominate the most interesting person they knew. Then ask the nominee to select the next, and so on. Whoever the trail led to, I would invite to present on stage after me.
The concept was innocent enough. Little did I know that this would backfire. That I was heading down a rabbit's hole that would challenge my view of who I am, my values, myself.
The trail started with a lady named Dr. Melanie Joy, she would be the 'host', the person who kicks of the nomination process.
This is an overview of the TEDx Trail (with selfie's taken by the participants).
FIRST: Dr. Melanie Joy — Berlin, Germany
An animal rights activist who coined the term Carnism to describe; "the invisible belief system, or ideology, that conditions people to eat certain animals. "
Dr. Joy fell in love with a German activist which brought her to Berlin, which was the precursor to being invited to speak at TEDx.
SECOND: Zoe Weil — Maine, USA
Dr. Melanie Joy led me to Zoe as she has been an inspiration to Dr. Joy throughout her career. They are long time friends and some-time collaborators. Zoe runs the Institute for Humane Education in Maine, Massachusetts. The ethos of which is to shift students from passive learners into active 'solutionaries'.
THIRD: Tawanda Chabikwa — Harare, Zimbabwe
Zoe Weil met Tawanda because he taught her children Capoeira while studying in the states. Tawanda is a multi-talented and proactive dancer, choreographer, author and charity worker.
FOURTH: Noam Rabinovich — Tel-Aviv, Israel
Tawanda studied with Noam in an international school in Hong Kong, and was mystified by her unique approach to the things she engaged with. He chose to use this trail as a means to reconnect with Noam. Noam now works as a humanitarian activist in Israel.
FIFTH: Tamara Ben-Halim — Palestine/London
Noam and Tamara formed a friendship, which was the first Israeli/Palestinian friendship for either of them. Tamara works as civil rights activist, raising awareness of the situation in Palestine and the Palestinian people.
---
How I found Tamara Ben-Halim
The trail led to Tamara Ben-Halim. Tamara is the grand-daughter of Palestinian woman who had been forcibly removed from her home in Jaffa during the first years of the State of Israel. She runs a charity called Cycling for Gaza and dedicates herself to Palestinian civil rights and a project whereby she is trying to trace and re-locate her grandmother's home.
Discussions of the Palestine – Israel conflict creates an anxiety in me. Israel is a second home. Half of my small family live there. I lived on kibbutz there as a kid. My first experience of love was with a girl who's face is burned in my memory from Israel. I was 11.
The last time I went to Israel was four months before my presentation, to visit my aunty Eva who was very ill at the time and passed away two weeks later.  She was a remarkable lady; a refugee who escaped from Nazi Austria in 1938. A socialist and a proud Israeli, a life-long campaigner against civil rights abuses. While preparing my talk, news of Palestinians indiscriminately stabbing Israelis filled my facebook feed. I say facebook and not 'the media' intentionally. My Israeli cousin was posting self defence youtube videos. Fear was on the streets of Israel, anyone was a target.
How could I possibly give a platform, literally a stage, to ideas that might risk encouraging sympathy with people who were threatening my family?
My internal conflict was palpable.
I see myself as this open minded guy, dedicated to the pursuit of diversity.  I realised the implications and the hypocrisy of what I was thinking, censoring the trail. Abandoning the values I'd spent more than a decade forming. But that's how I felt.
---
My most interesting person was my greatest stranger
The talk was approaching fast and I had to make a decision; invite Tamara to take the stage after me, or scrap the crux of my presentation.
It dawned on me after a disastrous rehearsal in front of friends, polite ears and blank smiles, that I had it all backward. Tamara and her divergent thinking was my signpost, pointing me to the edge of my open-mindedness. And, as I have seen time and time again that is where interesting things have the chance to manifest. That is where we grow, learn, change. All the good stuff! My internal conflict with Tamara's perspective on Palestine was not an obstacle to my story, it was my story.
It is the great strangers, the divergent thinkers, standing at the fringes of our lives, who are our most interesting people. It is them who are so often best placed to take us to where we need to go.
---
You can watch the TEDx talk in full here